 
RGUNLIGHT + magnetic holder Ø34 to 38 mm
Key Features :

    Superior LED Lighting: 38 high performance LEDs provide quality lighting for all painting situations.

    Extensive Compatibility: Fits 90% of spray guns on the market, including leading brands such as SATA, Devilbiss, Anest Iwata, Walcom, Sagola, Kremlin, and more.

    Easy to fit: A magnetic ring (available in 5 sizes) attaches to the air cap of the spray gun, ensuring accurate and efficient lighting.

    Improved Visibility: Makes it easier to place glitter, control coverage, and provide better visibility of paint passes.
You must be logged torequest for a quote. Click here to connect to your account
PHENDER® patented RGUNLIGHT accessories revolutionize the painting experience by offering a superior LED lighting tool to meet all your requirements. With 38 high-performance LEDs, the RGUNLIGHT is the perfect accessory to effectively illuminate any painting situation.

Universal compatibility: The RGUNLIGHT has been designed to fit 90% of spray guns available on the market, including renowned brands such as SATA, Devilbiss, Anest Iwata, Walcom, Sagola, Kremlin, and many others. Its ingenious design allows you to attach it easily to the air cap of your spray gun using a magnetic ring, available in two sizes. This innovative solution guarantees precise, efficient lighting throughout your painting project.

Improved Visibility: When you use the RGUNLIGHT, you benefit from enhanced visibility, which considerably improves the quality of your paintwork. Whether you need to place glitter precisely, check paint coverage or monitor your paint passes, this paint gun lighting equipment makes all these tasks easier.

Box Contents (Order No. MK000020/1):

    High-quality LED module.
    Magnetic holder for easy attachment of the RGUNLIGHT to your spray gun.
    1 mains charger, with options for EU, US, UK or AU plugs depending on delivery country.
    2 batteries for extended use.
    1 USB charger with cord for convenient recharging.
    5 LED protection films for long-lasting illumination.
    1 protective sock for the LED module, ensuring its safety when not in use.

With the RGUNLIGHT PHENDER®, you'll be able to brighten up your work area, whether in or out of the booth, making it easier for you to paint your projects and achieve impeccable results.

impeccable results. Don't let darkness get in the way of your creativity and precision. Choose RGUNLIGHT and transform your painting experience.
non-ATEX device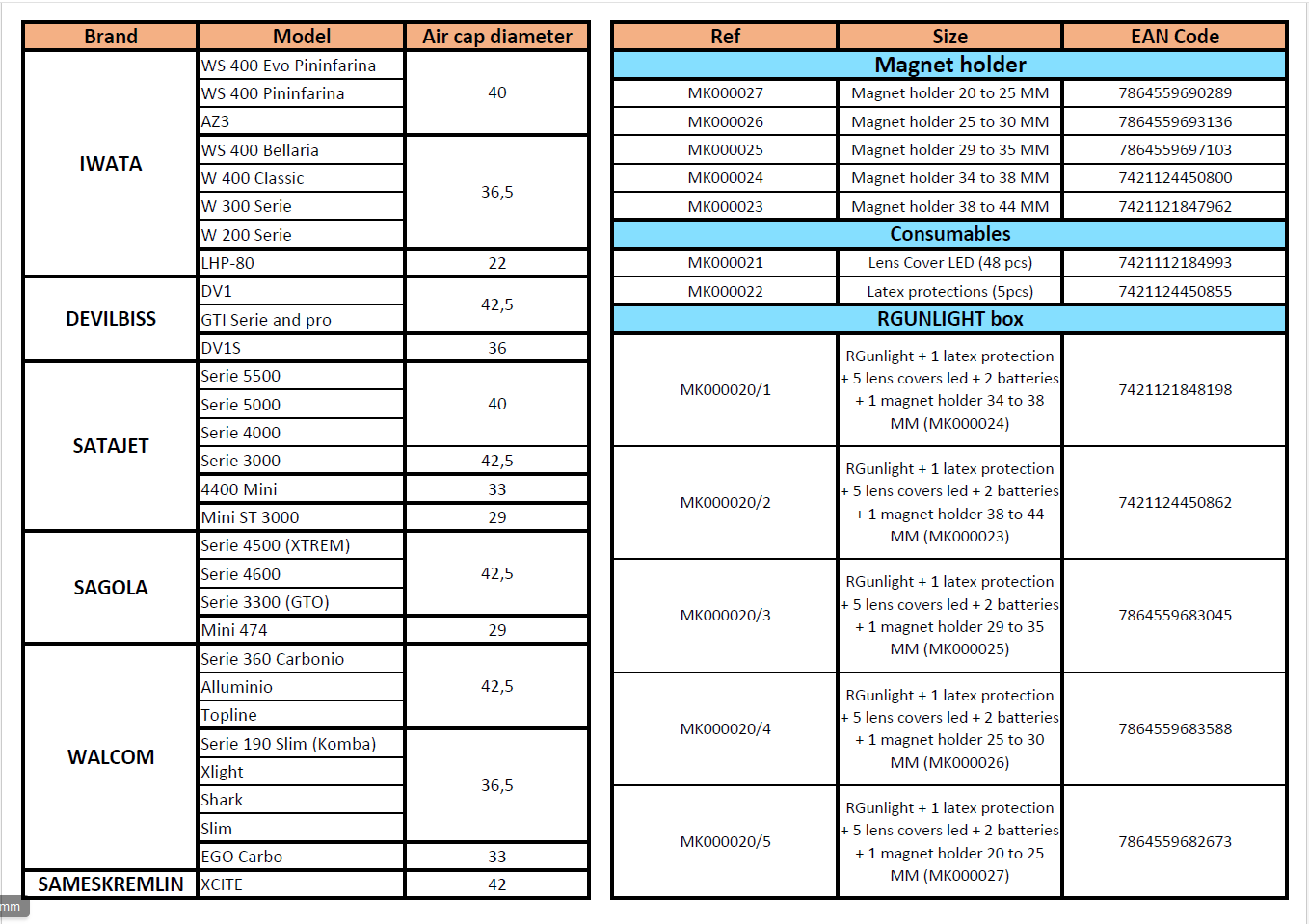 Reference: mk000021
48 protective films for your Rgunlight .
5 other products in the same category: